BOTTLES REDISTRIBUTED PER YEAR
OF VINEYARDS UNDER PRODUCTION
Are you committed to protecting the French wine heritage ?
We invite you to play an active role by financially supporting a vineyard concerned with respect for the environment and preservation of living resources, by allowing it to produce new vines. In return, each year you receive a portion of the yield under the form of wine bottles produced on the plots. Help maintaining the bond between generations by joining the community of partners in GFV by Canovia and share unique moments of conviviality between enthusiasts and winemakers.
Be part of the GFV by Canovia adventure! Become a partner !
Canovia advantages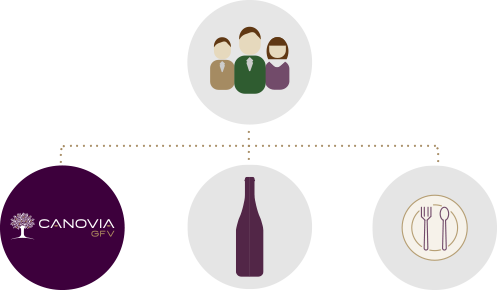 The link between the winemaker and partners is maintained daily thanks to different moments of sharing:
A time of conviviality between the winemaker and their associates is organised once a year
Advice and news provided by Canovia, your dedicated intermediary, to keep up with life in the domain all year round through our newsletter, videos, social network platforms, news section of this website etc.
The recovery of your allocation in bottles by the associate, a great occasion to meet and greet the winemaker
The Annual General Assembly, bringing the associates, winemaker and GFVs manager together to report on operations, the estate's productivity and the winemaker's projects. 
Keep me informed
Stay in the loop and be first to hear about our GFV news
Enter you email address,
and we will let you know about upcoming
GFV by Canovia projects.
I want to know more
Do you need extra information? Clarifications?
Click below to find out more about the way an GFV operates: