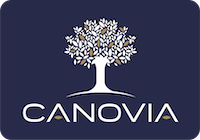 Acting today

Canovia is an investment bank and mission-based company with over 10 years' experience, established in Dijon. We strive to act today for a better tomorrow by placing financial activities at the heart of the collective and environmental common good. We provide tailored solutions to suit your immediate needs, as well as durable financial plans to sustain your ecosystem

Canovia is BCorp™ certified – meaning we take our CSR and sustainability engagements to heart.

For a better tomorrow

We provide consulting and support solutions to help develop economic entities that are engaged with their ecosystem. We are part of a collaborative movement committed to liberalising and popularising knowledge, and we cooperate with academics through projects in R&D and applied social science. Our multidisciplinary team works across professions to carry out successful projects while delivering turnkey solutions and enable you to keep up with deadlines and advice coordination.
GFVs: Our commitment
Since 2011 Canovia has been involved in structuring Wine-producing Agricultural Land Trusts (GFV) to build and promote the link between land, people and our clients.
Want to act today for a better tomorrow ?
Contact us for a personalised evaluation